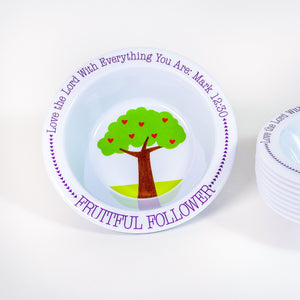 Fruitful Follower Bowl
Jesus said that the greatest commandment was to love the Lord with all your heart, soul, mind and strength. Cheer on your child to live out this all-important commandment with the FRUITFUL FOLLOWER bowl. Pair with the FRUITFUL FOLLOWER plate or mix and match with one of our other adorable designs.
Bowl is 6.5" in diameter
Made from 100% non-toxic, BPA Free Melamine
Bowls are plenty strong enough to shine in daily use and are dishwasher safe, but please don't use them in the microwave.